Happy new year everyone!
Aryeom started the first day of the year by the live drawing of a new header illustration welcoming this brand new year. Well that was time since we still had quite a summer-themed header until yesterday. 🙂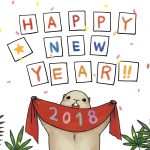 This new image happens to be also in 16:9 format so it can be used as background image on most screens. Just click the thumbnail on the right to download it full-size.
It is licensed Creative Commons BY 4.0 by Aryeom Han, ZeMarmot director.
Also the drawing session was streamed live (as many of Aryeom's GIMPing session now, as we explained in "Live Streaming while GIMPing" section of our 2017 report). If you missed it, you can have a look to the recording. As usual, this was not edited afterwards nor was it sped up or anything; oh and we certainly don't add up any music to make it look cooler or whatever. 😛
This was a real focused live, which explains why it is nearly a one-hour video. Just skip through it if you are bored. 😉
Enjoy!
This drawing and this live are made possible thanks to our many donators!
Reminder: Aryeom's Libre Art creation can be funded on
Liberapay, Patreon or Tipeee through ZeMarmot project.