So what happened in August for ZeMarmot?
GUADEC
We went to the GUADEC conference, which was our first time there. Have a look to our reports in English and in Korean.
If you haven't already, we can recommend to have a look at the record of our talk. We showed pieces of the animation work in progress.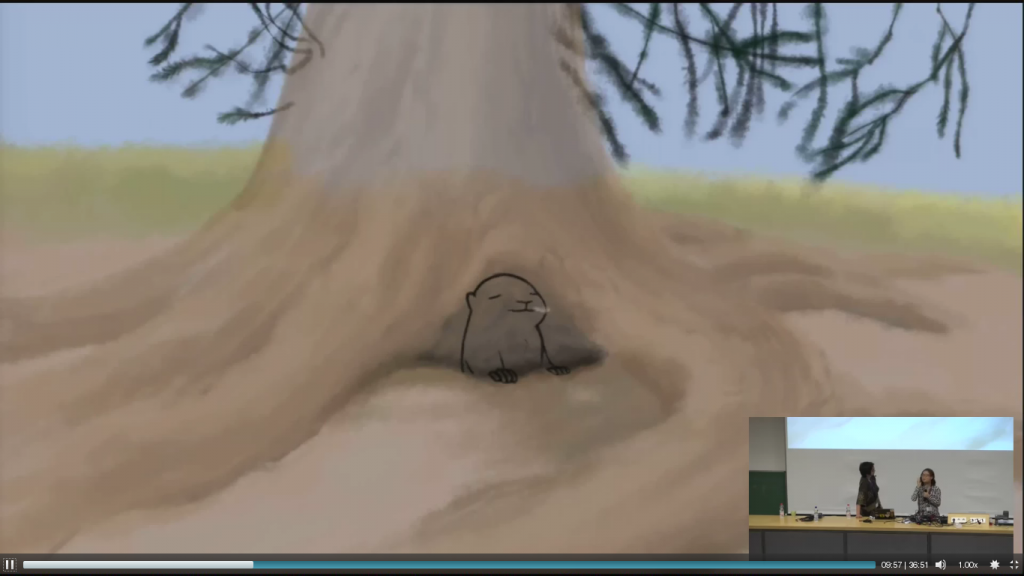 Also the development being done on the animation software.
… and some numbers on what we did in GIMP (we already posted some info on our implication in GIMP earlier, if you remember), and more… Anyway rather than repeating ourselves, just check out the video. 🙂
Production
This month has been very active, both for the drawing, animating and coloring of several cuts of the pilot, as well as for the plugin development.
Just as we came back from GUADEC though, the graphics tablet of Aryeom — a Wacom Intuos 5 M — failed to work. This is bad news since these are pretty expensive. We were seeing it coming since the connection was having regular issues, but Aryeom is extra cautious with her material, so we hoped it would last longer. It did not. For a week, Aryeom had been drawing on a very old Wacom Bamboo (MTE-450, nearly 10 year old model, which Aryeom was using during her university years). Finally we found a solution saving us from having to buy a whole new tablet!
But as a bad news does Aryeom sprained her right hand's thumb (i.e. her drawing hand) just around the end of the month! :-/ Probably she worked too much.
So that's a bad news which requires her to rest her hand a bit now. Send her all the love you can, everyone!
That's it for now. We'll send more news soon, hopefully better ones.
We hope that you appreciate our project, and if this is the case, don't forget that you can always support us either through Patreon (USD) or Tipeee (EUR).