You may have already read on ZeMarmot's Twitter a few days ago but I thought a short post may be worth it. Lately Aryeom's Wacom tablet (Intuos 5 M) had been acting up until finally the USB port was not working at all (not the cable — of course we checked! 😛 — but the port side on the tablet).
Apparently quite a common problem with Wacom Intuos tablets (like very common; I could find many reports on the web about such problem) and the after-sales of Wacom is quite expensive unfortunately. Some people would open and solder the USB back themselves successfully. On the other hands, I could read at least one comment by someone who failed and bricked the tablet this way. Also I have not soldered anything for years and I don't have a good soldering iron anymore.
We also had the wireless kit, so we wondered if this could not be our solution: why plug the tablet at all? But it still requires the tablet to work on battery and this one is charged… by the same USB plug! Back to case 1. But then I checked the battery, realized it looked like a very common phone battery (comparing to a Galaxy S2 battery we had there, it was the same voltage, just a slightly different form factor). So yes the solution was simply to buy a 8€ universal charger, and a second Wacom battery so that we can use one in the tablet while the other is charging.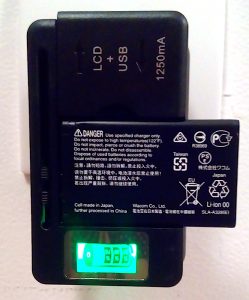 And tadaaa! Wacom tablet fixed for just a few bucks! 🙂
I'm just letting this small trick out there as a possible alternative to soldering yourself your graphics tablet, in case this happens to you too.
P.S.: yes it is written on the battery to only use the specified charger. But what do you want? We do what we can. 😉
Reminder: was it helpful? If you like our posts, you can
always support our animation film project, "ZeMarmot"
(Creative Commons by-sa), made with Free Software, for
which we also contribute back free software code, open data,
articles…
Fund us in USD on Patreon or in EUR on Tipeee! :-)