Too long, didn't read? In a few words: our GIMP development + ZeMarmot production is currently funded barely above 400 € per month, this doesn't pay the bills, my main computer broke today and Aryeom's graphics tablet has been working badly for some time now. We are a bit bummed out.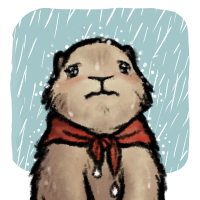 So we call for your help!
You can fund GIMP development and ZeMarmot production on Patreon or Tipeee!
Read below for more.
---
If you read us regularly, you know that I am hacking GIMP a lot. We are just a handful of regular developers  in GIMP, I am one of them. My contributions go from regular bug fixes to bigger features, maintenance of several pieces of code as well as regular code review from contributed patches. I do this in the context of ZeMarmot project, with Aryeom Han, director and animator.  We draw on and hack GIMP because we believe in Free Software.
On the side, I also contribute to a lot of other Free Software.
Our absolutely-not-hidden goal is to be able, one day, to live from hacking Free Software and creating Libre Art. But clearly there is no denying that we are currently failing. With about 400€ a month for 2 people, association LILA can barely pay a few days a month (by the rules, which means a good part of the sum even goes to non-wage labour costs). These 400€ are not even the monthly rent we pay for our 1-room flat (31 m², in the far suburb of Paris); so you would assume well that we don't live from it. We mostly live off savings and other things to pay the bills. These "other things" also use time we would rather spend on drawing and coding.
We would indeed enjoy working full-time on ZeMarmot, creating Free Software and Libre Art for everyone to enjoy. But we are very far from this point.
The main reason why we have not stopped the project already is that we promised we'd release the pilot. Funders are counting on us. Of course the other reason is that we still hope things will work out and that we will be able to live from what we love. Still the project is done at slow pace because we can't afford to starve, right? So we are at times demoralized.
This is why I am doing this call. If you can afford it and believe that improving GIMP is important, then I would propose to fund ZeMarmot which supports paid development.
Similarly if you want to see more Libre Art, and in particular cool animation films, and maybe later other movies under Libre licenses in professional quality, then I again propose to support ZeMarmot.
» Patreon funding «
» Tipeee funding «
Our material is dying
And so why is this post released today? The situation has been hard for months now, but today it is dire: my laptop just broke. It just won't turn on. All my data are safe since I do regular backups (and I think the hard drive is still ok anyway), but I don't have a computer anymore to work on (I am writing this on a 8-year old 32-bit netbook which barely stands opening a few browser tabs!).
On her side, Aryeom's graphics tablet has had issues for months. As you may remember, we partly dealt with them, but the tablet regularly shuts down for no reason, we have to remove and put back the battery or similar annoying "workarounds". And we fear that we have to buy a new one soon.
So that's what triggered this blog post because I realize how precarious is our situation. We barely get funding for living bills, we eat our savings and now we have (expensive) material issues. So we are calling you all who like Free Software and Libre Art. Do you believe ZeMarmot is a good thing? Do you believe our project has any meaning and that it should continue for years and years? We believe this, and have believed it for the last 2 years where we have been trying. If you do too, maybe help us a bit, relatively to your means. If you really can't afford it, at least you can spread the word.
ZeMarmot is a wonderful experience for us, and we really don't want it to have a bitter end (though we won't regret a second of it).
Thanks for reading!