We had an awesome funding experience, but this is not finished. First because we still have a few hours left, so if you were planning on contributing and simply waiting for the last second, now is the time! Also because this is only the start of ZeMarmot adventure. With what we have funded, we are going to release the beginning of the movie in a few months, which we hope you will enjoy, then decide to continue supporting, financially or otherwise.
As of now we have 327 awesome funders from 36 countries, from smaller amounts to bigger ones (1000 €). Amongst our Silver Sponsors, 2 organizations officially support our project: apertus° (the first OpenHardware cinema camera makers) and Laboratorio Bambara (a research group on audiovisual art).
Our first ever Silver sponsor was Mike Linksvayer, former executive director of Creative Commons. We can also count Terry Hancock, Free Software Magazine columnist and director of the Open animation serie "Lunatics", among our funders, and other contributors from well known Free Software or Free Knowledge projects: a long time GIMP developer, Simon Budig; a Mozilla employee, Xionox; a Creative Commons employee himself on a movie adventure too, Matt Lee; GCompris maintainer, Bruno Coudoin… And I'm sure I missed a lot of people.
Also several teachers from various universities, even a bookstore (À Livr'Ouvert) backing us officially, fellow artists, some using Free Software (like Tepee), people from the cinema industry (an executive producer for instance).
Of course the GIMP project has been supporting our project all along…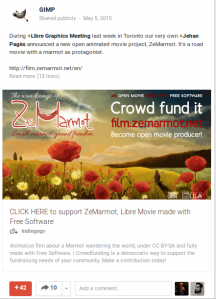 As well as Libre Graphics World, reference for Free Arts-related news…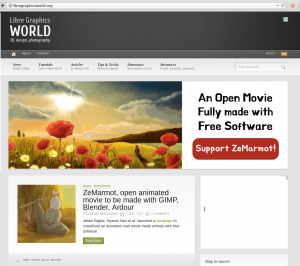 BlenderNation, linuxfr (French-speaking Free Software news), Framasoft, GIMPUsers, the VLC project, and so many others.
We were also featured in wider audience news website as Numera and Reflets, and even in television on TV5World, and twice on French FM radio.
Tristan Nitot (former president of Mozilla Europe, now Cozy Cloud Chief Product Officer), Free Software foundation, Creative Commons shared our project on various social networks or blogs.



Ton Roosendaal, Blender Foundation chairman, called our initiative "a Libre movie project with the right spirit".



Now I'm just name-dropping. That's because we were impressed by all this support. Yet let me be clear: you are all as important to us! Everyone of you. You show us that Libre Art, independent films and Free Software are cool and have a chance. Because seas are made of each drops.
We love you all.